​​​​​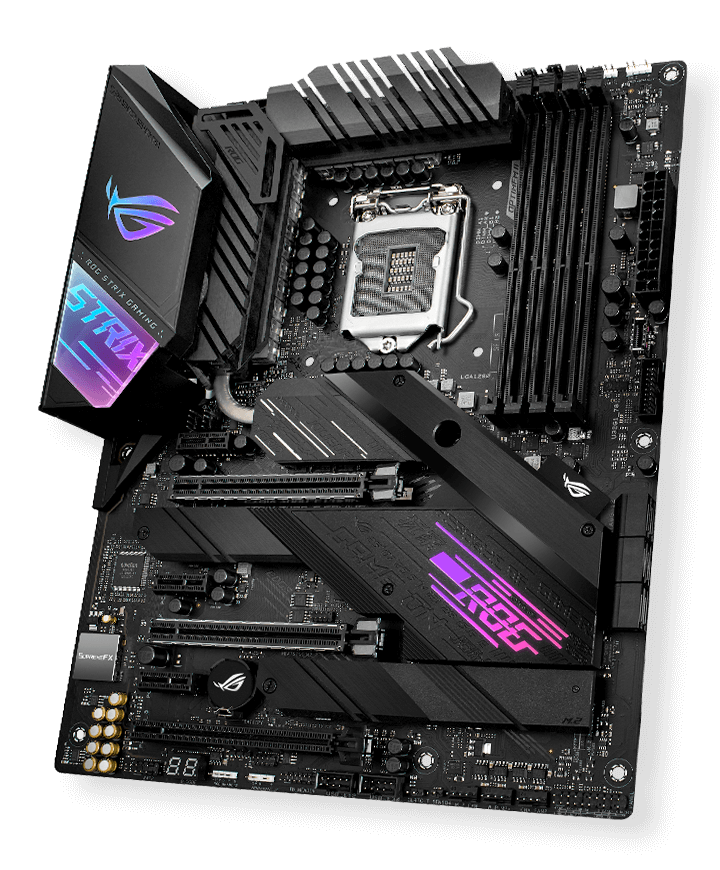 The ROG Strix Z490-E Gaming motherboard is designed to cope with the demands of 10th Generation Intel® Core™ processors, with boosted power delivery and an optimized cooling design providing more surface area for heat dissipation. ROG Strix Z490-E Gaming features AI enhancements and intuitive dashboards to help you overclock and tweak various parameters easily. Performance aside, ROG Strix Z490-E Gaming catches the eye, sporting cyberpunk inspired aesthetics including a mirrored stainless steel finish.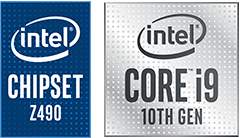 ALL-ROUND PERFORMANCE
ROG Strix Z490-E Gaming helps you get the most out of your gaming build with up-rated power delivery and optimized cooling. Intelligent controls lets you manage overclocking, cooling and networking settings easily, giving you everything you need to harness the full potential of your build for top-tier gaming performance.
Power Design

Cooling

Intelligent Control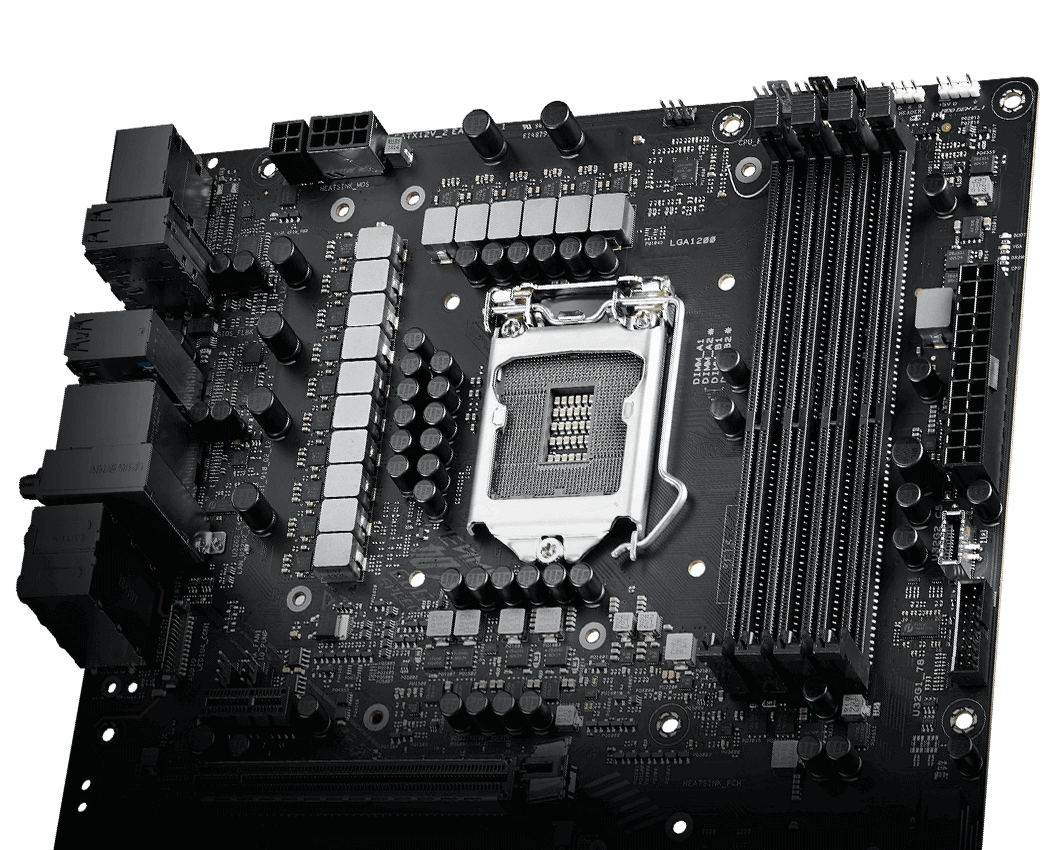 POWER DESIGN
Digital power control and an array of power stages ensure ROG Strix Z490-E Gaming has the muscle to control the latest Intel CPUs.
PROCOOL II
POWER CONNECTOR
The ProCool II socket is built to tight specifications to ensure flush contact with the PSU power lines and have a metal armor for improved heat dissipation. The connector's lower impedance helps prevent hotspots and improves reliability.
DIGI+
POWER CONTROL
The Digi+ voltage-regulator module (VRM) is one of the finest in the industry, ensuring ultra-smooth and clean power delivery to the CPU.
14+2 POWER STAGES
ROG Strix Z490-E Gaming utilizes 14+2 power stages to combine high-side and low-side MOSFETs and drivers into a single package, delivering the power and efficiency that the latest Intel processors demand.
ALLOY CHOKE & CAPACITOR
Superior chokes and durable capacitors are engineered to resist extreme temperatures and provide up to 110% better performance than the industry standard.
LEADING CONNECTIVITIY
ROG Strix Z490-E Gaming provides you with the latest connectivity for supersmooth online experiences and blisteringly-fast file transfers. Superior audio performance gives you a massive advantage, allowing you to pick up on the smallest audio cues for a completely Immersive gaming experience.
Storage & Memory

Networking

Audio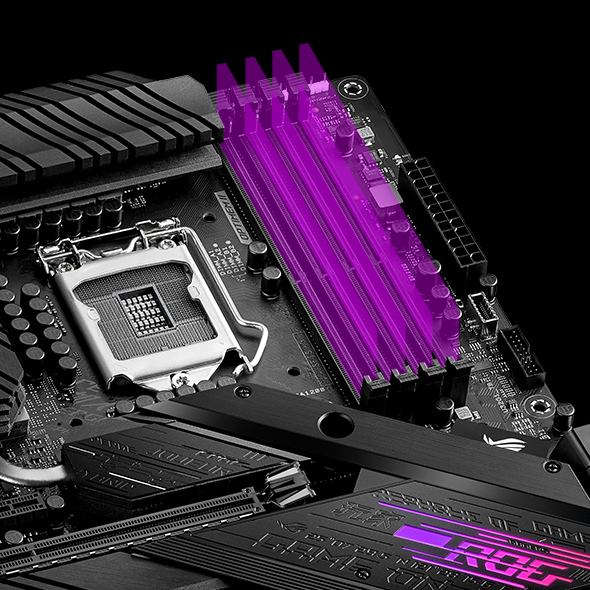 DDR4 OC4600MHz
ROG Strix Z490-E Gaming supports up to 128GB DDR4 memory across four slots. OptiMem II technology improves trace layout to significantly reduce vias and crosstalk to enhance memory stability and compatibility, giving memory kits higher frequency margins.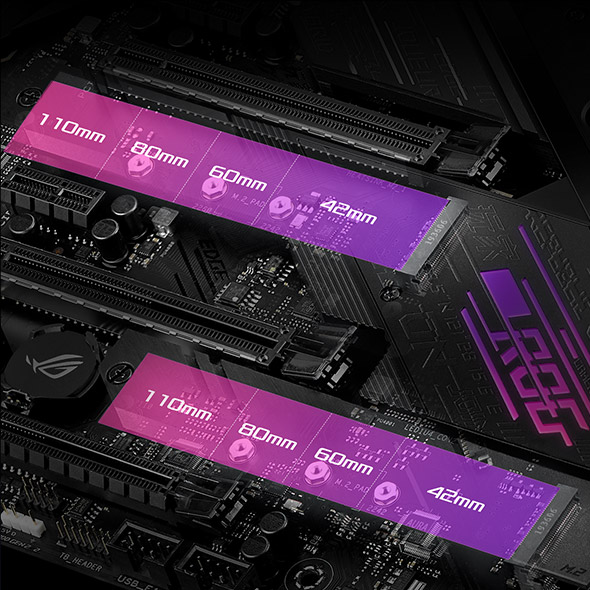 DualPCIe 3.0 M.2
Two M.2 slots are available, with one supporting both SATA and PCIe 3.0 x4 modes, and the other supporting PCIe 3.0 x4 for NVMe. Together, they give you the fastest and most-flexible M.2 interface available.
PLAY YOUR OWN STYLE
The cyberpunk-inspired aesthetics are accentuated by the bold slashes and cybertext. Together with the most diverse ROG ecosystem, Pair your ROG Strix Z490-E Gaming with other ROG products to customize a gaming rig that reflects your personal style.
Customization

DIY Friendly

Certified Compatibilty
ID design
Aura Sync
UNDENIABLY ROG STRIX
ROG Strix Z490-E Gaming is unmistakably ROG, it features a mirror-like stainless steel finish, complete with diagonal lines across the I/O shield and futuristic cyber-text.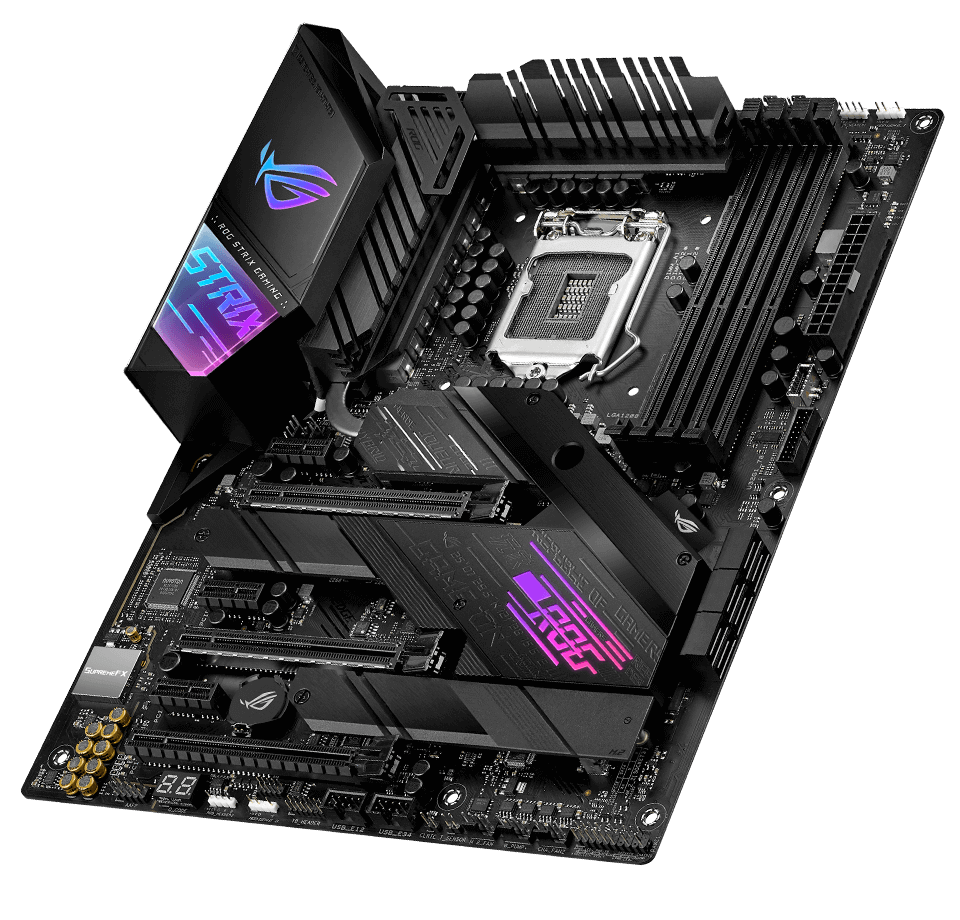 ROG GIVES YOU MORE
ROG exclusive software utilities deliver intuitive audio tuning and gaming enhancements so you can configure your gaming build the way you want.
Optimization

Audio Effect

Armoury Crate

RAMCache III
5-WAY OPTIMIZATION
Take care of complex tuning with just one click. ASUS 5-Way Optimization is a system-wide tuning utility that overclocks the processor and tunes fan speeds to ensure the best balance between cooling and acoustics. The automated CPU tuning feature of 5-Way Optimization leverages the same onboard intelligence as AI Overclocking,but goes further by running a Prime95 based stress test to deliver a result that's well-tuned from the get-go.
TPU INSIGHT
EPU Guidance
FAN XPERT 4
DIGI+ POWER CONTROL
TURBO APP
The TurboV Processing Unit (TPU) provides AI Suite 3 with the intelligence needed to automatically fine-tune voltages, monitor system stats, and adjust overclocking settings. We have upgraded this tool to provide AI Overclocking prediction values for users who want more insight when experimenting with different settings.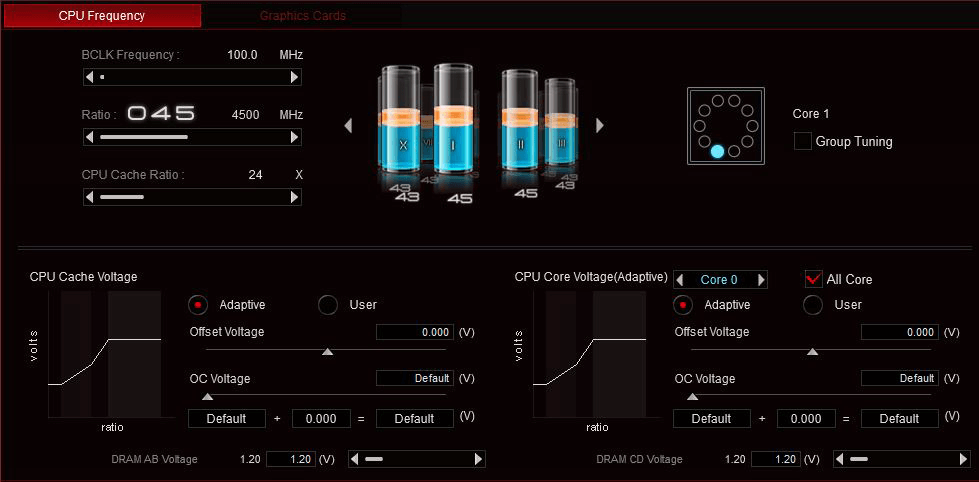 UEFI BIOS
The renowned ROG UEFI (BIOS) provides everything you need to configure, tweak, and tune your rig. It offers intelligently simplified options for newcomers to PC DIY, as well as comprehensive features for seasoned veterans.
ADVANCED MODE
EZ MODE
When you're ready for a deeper dive into the configuration of your system, delve into the UEFI's Advanced mode and take complete control. Each section is intuitively organized, and a built-in search feature makes it easy to find the options you need. Advanced functions are coded with the intelligence to adapt to your settings, and when you're ready to take charge, parameters have the granularity to dial in performance just the way you want.

Detailed Information
Detailed Specs

CPU

Intel® Socket 1200 for 10th Gen Intel® Core™, Pentium® Gold and Celeron® Processors
Supports Intel® 14 nm CPU
Supports Intel® Turbo Boost Technology 2.0 and Intel® Turbo Boost Max Technology 3.0**
* Refer to www.asus.com for CPU support list
**Intel® Turbo Boost Max Technology 3.0 support depends on the CPU types.

Chipset

Intel® Z490

Memory

4 x DIMM, Max. 128GB, DDR4 4800(O.C.)/4600(O.C)/4500(O.C)/4400(O.C)/4266(O.C.)/4133(O.C.)/4000(O.C.)/3866(O.C.)/3733(O.C.)/3600(O.C.)/3466(O.C.)/3333(O.C.)/3200(O.C.)/3000(O.C.)/2933(O.C.)/2800(O.C.)/2666/2400/2133 MHz Non-ECC, Un-buffered Memory
Dual Channel Memory Architecture
OptiMem II
* 10th Gen Intel® Core™i9/i7 CPUs support 2933/2800/2666/2400/2133 natively, Refer to www.asus.com for the Memory QVL (Qualified Vendors Lists).

Graphic

Integrated Graphics Processor
1 x DisplayPort 1.4 *
1 x HDMI 1.4b
*Graphics specifications may vary between CPU types.
**Support DisplayPort 1.4 with max. resolution of 4096 x 2304 @60Hz. Please refer to www.intel.com for any update.

Multi-GPU Support

Supports NVIDIA 2-Way SLI® Technology
Supports AMD 3-Way CrossFireX™ Technology

Expansion Slots

Intel® 10th Gen Processors
2 x PCIe 3.0 x16 (x16 or dual x8)
Intel® Z490 Chipset
1 x PCIe 3.0 x4 (x4 mode)
3 x PCIe 3.0 x1

Storage

Total supports 2 x M.2 slots and 6 x SATA 6Gb/s ports
Intel® Z490 Chipset :
1 x M.2_1 socket 3, with M key, type 2242/2260/2280/22110 storage devices support (SATA & PCIE 3.0 x 4 mode)
1 x M.2_2 socket 3, with M key, type 2242/2260/2280/22110 storage devices support (PCIE 3.0 x 4 mode)
6 x SATA 6Gb/s port(s)
Support Raid 0, 1, 5, 10
Intel® Optane™ Memory Ready

LAN

Intel® I225-V 2.5Gb Ethernet
ASUS LANGuard

Wireless Data Network

2x2 Wi-Fi 6 (802.11 a/b/g/n/ac/ax) support 1024QAM/OFDMA/MU-MIMO
Supports up to 2.4Gbps max data rate
Supports dual band frequency 2.4/5 GHz
Supports channel bandwidth: HT20/HT40/HT80/HT160
Supports CNVI interface

Bluetooth

Bluetooth v5.1*
*BT 5.1 function will be ready in Windows 10 build 19041 or later.

Audio

ROG SupremeFX 8-Channel High Definition Audio CODEC S1220A
- Dual OP Amplifiers
- Impedance sense for front and rear headphone outputs
- Supports : Jack-detection, Multi-streaming, Front Panel Jack-retasking
- High quality 120 dB SNR stereo playback output and 113 dB SNR recording input
- Supports up to 32-Bit/192kHz playback *
Audio Feature :
- SupremeFX Shielding™ Technology
- Gold-plated jacks
- Optical S/PDIF in port(s) at back panel
- LED-lit Audio Shielding
- Premium Japanese audio capacitors
- Audio Cover
* Due to limitations in HDA bandwidth, 32-Bit/192kHz is not supported for 8-Channel audio.

USB Ports

Rear USB Port ( Total 10 )
4 x USB 3.2 Gen 2 port(s)(3 x Type-A +1 x USB Type-C®)
2 x USB 3.2 Gen 1 port(s)(2 x Type-A)
4 x USB 2.0 port(s)
Front USB Port ( Total 7 )
1 x USB 3.2 Gen 2 port(s)(1 x USB Type-C®)
2 x USB 3.2 Gen 1 port(s)
4 x USB 2.0 port(s)

Back I/O Ports

1 x Intel® I225-V 2.5Gb Ethernet
1 x DisplayPort
1 x HDMI
4 x USB 3.2 Gen 2 (3 x Type-A+1 x USB Type-C®)
2 x USB 3.2 Gen 1
4 x USB 2.0
1 x Optical S/PDIF out
1 x USB BIOS FlashBack™ Button(s)
5 x Gold-plated audio jacks
ASUS Wi-Fi module (Wi-Fi 802.11 a/b/g/n/ac and Bluetooth v5.0)

Internal I/O Ports

1 x M.2_FAN connector
1 x CPU Fan connector(s)
1 x CPU OPT Fan connector(s)
2 x Chassis Fan connector(s)
1 x AIO_PUMP connector
1 x W_PUMP+ connector
2 x Addressable RGB header
1 x AAFP connector
2 x Aura RGB Strip Headers
1 x USB 3.2 Gen2 connector support additional 1 USB ports(20-pin, Type-C)
1 x USB 3.2 Gen 1(up to 5Gbps) connector(s) support(s) additional 2 USB 3.2 Gen 1 port(s)
2 x USB 2.0 connector(s) support(s) additional 4 USB 2.0 port(s)
1 x M.2 Socket 1 with M Key, type 2242/2260/2280/22110 storage devices support (SATA mode & PCIE mode)
1 x M.2 Socket 2 with M key, type 2242/2260/2280/22110 storage devices support (PCIE 3.0 x 4 mode)
6 x SATA 6Gb/s connector(s)
1 x Thunderbolt header(s)
1 x 24-pin EATX Power connector(s)
1 x 8-pin ATX 12V Power connector(s)
1 x 4-pin ATX 12V Power connector(s)
1 x System panel(s) (Chassis intrusion header is inbuilt)
1 x Thermal sensor connector(s)
1 x Clear CMOS jumper(s)
1 x CPU_OV jumper
1 x Q-Code
1 x VRM_HS_FAN Header

Accessories

User's manual
1 x ASUS Fan Holder
4 x SATA 6Gb/s cable(s)
1 x Supporting DVD
1 x MOS Cooling kit (fan bracket and 40mm x 40mm fan)
1 x ROG Strix stickers
1 x Cable ties pack(s)
1 x Extension Cable for RGB strips (80 cm)
1 x Extension cable for Addressable LED
1 x Thermistor cable(s)
1 x ROG Thank you card
1 x 2-in-1 Rubber pad
1 x Wi-Fi moving antenna
1 M.2 SSD screw package(s)
1 ROG key chain

BIOS

192 (128+64) Mb Flash ROM, UEFI AMI BIOS

Manageability

WOL by PME, PXE

Operating System

Windows® 10 64-bit

Form Factor

ATX Form Factor
12 inch x 9.6 inch ( 30.5 cm x 24.4 cm )

Note

*When M.2_1 is operating in SATA device, SATA6G_2 will be disabled.
** M.2_2 shares bandwidth with SATA6G_56. When M.2_2 is populated SATA6G_56 will be disabled.

Additional Information
Warranty

Three Years From Manufacturer


Note *

Features, Price and Specifications are subject to change without notice.***